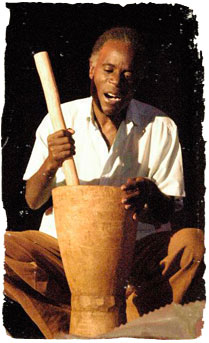 A collaboration with South African theatre group Shoestring Productions and Nanzikambe Arts, Eating to Live brought together performers from both countries to explore and reveals a lesser told story of poverty in Southern Africa.
Generally, there has been little theatre that probes the issue of famine. And no professional theatre production that tells the story of the 2002 food crisis in Malawi.
Eating to Live is a comically dark tale about betrayal and death, with macabre humour and physical imagery.
What does food mean to people in the context of a food crisis? Food is sold, eaten, stuffed, stolen, wasted, used, enjoyed, relished, longed for. Food makes life possible; its absence causes death. It is used as a political tool; it is profiteered from; but it also exists in the imagination: binding people together. Myths about maize are a plenty, especially when maize itself is sparse.
Politically controversial, Eating to Live is essentially a family story set to a backdrop of the Malawian food crisis of 2002: a crisis that went almost unnoticed and in which thousands died.
An "intense, intimate, compact" production, it acts as a testament to the tragedy suffered by millions of starving and also celebrates traditional mechanisms of survival and endurance.
"It leaves the question hanging of whether it's acceptable, or normal that people die in their thousands, without seeing life past forty" Audience member
Narrated by a Chameleon, life as it is understood in Chinyanja creation myths, is ever present, as is destruction and death: a flood destroys the father's maize field, confusion ensues when his daughter's body is then sold to a local businessman for food. Pestles and mortars thud throughout.
Eating to Live premiered at the Harare International Festival of the Arts in 2004.
This production was made possible by the good will of Vukani Community Theatre in Johannesburg and the support of the National Arts Council, South Africa.
Cast
Angella Ching'amba
Baba Twaya Sanudi
Brenda Ngxoli
Linda Xulu
Bonginkosi Twala
Thulpego Chisiza
Crew
Director: Melissa Eveleigh