Chilly Heart co-devised physical-theatre piece. A thriller that analyses the power mechanisms in Malawi. September 2003.
Hailed as starting a 'Theatre Revolution' Chilly Heart is a political satire written and devised by the Nanzikambe company. Set in Chilly Heart, the coolest part of Southern Africa, the play challenges the preconception that Malawi is the 'Warm heart of Africa.'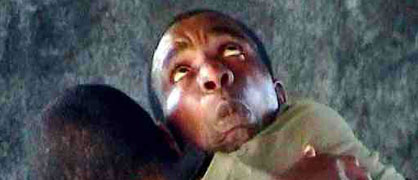 Chilly Heart tells the story of family and friendship being tested by power and investigates the nature of hiding one's true face. When the government sells Chilly Heart's food reserve in secret, someone must take the blame. Combining mock-serious dance routines that embody the action of lugging maize sacks, and penetrating images of a family torn apart, Chilly Heart is a fast and furious production, written with rigour.
The production combined the martial artist, Charles Nembele as an imaginary dream figure who comes to Mr Law and Order in the night urging him to fight. The music was written by Sally Nyundo and performed by up and coming artists Brave Mnyayi and Peter Makalande.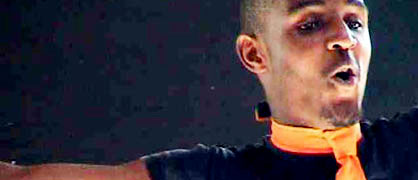 The story begins with the shooting of Mr Law and Order, who lives on Figurehead street along with Top Dog, Lap Dog, Mister Opposition, Mark Mogul the Media Machine and Mister Bureau Crat. The story is narrated by The Critic with a Giggle and the Critic with a Grin. The story takes place over three days and plots the events leading up to Mr Law and Order's death. The question driving the action is 'was it murder, or was it suicide?'. All in Top Dog's inner circle are a suspect, and some know the truth. Knowing the truth is a dangerous business in Chilly Heart, especially if you are willing to act on what you know.
Cast
Wongani Munthali
Elizabeth Chimphonda
Wayile Mayuni
Brave Mnyayi
Peter Makalande
Joseph Jelemani
Carol
Kautsire
Chalres Sensei Nembele
Raymond Sekeni
Yambikani Pingani
Zondwayo Juba
Harvey Soko
Crew
Director: Melissa Eveleigh
Music by: Sally nyundo