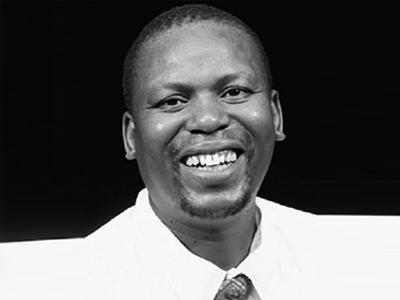 Mncedisi Baldwin Shabangu
Director / Writer / Performer
Mncedisi Shabangu trained at both Market theatre laboratory in Johannesburg and The royal national theatre studio in London and graduated in 1998 specializing in Shakespeare and unpunctuated text and storytelling.
Plays as an actor at the Market theatre
1997-Gomorrah by Pule Hlatshwayo
1998-Orpheus by Robin Orlyn
1999-Ways of dying by Lara Foot
2000-Call us crazy by Josias Moleele
2003-Tshepang by Lara Foot
2004-Best wedding ever by Bruce Koch
2005-Nongogo by John Matshikiza
2006-The Suitcase by James Ngcobo
2007-Dream of the dog by Malcom Purkey
2008-Grimm tales by Craig higginson
2009-Woyzeck by William Kentridge
2012-Woza Albert by Prince Lamla
Plays as an actor at the State theatre
2010-Cards by Paul Grootboom
2010-Rivonia Trial by Aubrey Sekhabi
Play as an actor at Windybrow theatre
2011-'Modus Vivendi-Motshabi 'Vice' Monageng
Plays as an actor Baxter Theatre
2003 Tshepang by Lara Foot
2006 Tshepang by Lara Foot
2014 Fishers of Hope by Lara Foot
Plays as a director at the Market theatre
1998-Wangesheya-wangesheya
1999-Quenn
2000-The barbershop
2001-L.A.T.E
2002-Mooi street moves
2003-Vuka Machel
2004-Cold stone jug
2005-Third coming
2008-Ten bush
Play as director playhouse Durban
2009-Last kick of a dying horse
Play as director Windybrow theatre
2009-Kanyamzane
2014-In the heart
Plays directed for the HIFA festival in Zimbabwe
2005-Vuka Machel
2010-Protest
2014-Half empty, half full
Plays as assistant director
2001-The Blacks-StockholmstadsteaternSweden
2010-Woyzeck-Baxter theatre
2014-Fishers of hope –Baxter theatre.
Awards
Graham Lindop award for most improved actor
FNB Vita for best director-Vuka Machel
FNB Vita for best supporting actor-Call us crazy
Naledi Award for best supporting actor-The suitcase
Fleur Du Cap for best actor-Tshepang
KKNK Karna for best actor-Tshepang
Standard bank young artist award for drama 2003
Television credits
Theatre sports by Bobby Heaney
The lab II by Berry Beck
Heartlines (The other woman) by Cindy Lee
Muvhango SABC1
Die vloer op-Dutch TV Improvisation show
Film Credits
Hijack stories by Olivier Scmidtz
Catch a fire by Phillip Noyce
Dirty laundry
Through her eyes
Workshop attended
Directing workshop with Sir Peter Brook
Complicite workshop with Jon Wright
Shakespeare workshop with Selina Cadell
Workshop on Arthur Miller by Richard Hahlo
Workshop with William kentridge
Workshop with Ken Campbell
Other
Mncedisi is a physical theatre teacher at the Market theatre laboratory for the last eleven years. He has been in positions as Associate artistic director for the Market theatre and Artistic director for the Windybrow theatre. He is a full time director of Babuyile community theatre group in Nelspruit where he works with young people.
CURRENT AFFAIRS
Mncedisi is engaging young female directors in the art form of physical theatre studies and ideas around commissioning of space. He is the founder artistic director of The Mncedisi Memorial Theatre Institute where he hosts workshops and festivals for his community. It is an NPO that is formalizing the opening of a training theatre institute and a theatre space to showcase young talent and also host national and international acts.
Director / Writer / Performer