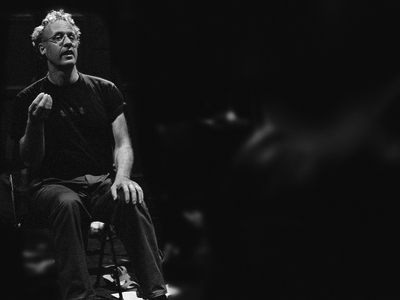 David Glass
Associate Director
THEATRE PRACITIONER, ASSOCIATE DIRECTOR AND DIRECTOR/FOUNDER OF THE CENTRE OF CREATIVE PRACTICE
David Glass is an award winning performer, director, teacher and facilitator of theatre. 
He spearheaded the physical theatre movement in the eighties as a soloist and toured to over 40 countries.  In the nineties he established The David Glass Ensemble to explore collaborative ensemble theatre, creating award winning productions such Gormenghast and Les Enfants de Paradis.
He went on to develop The Lost Child Project, a participatory theatre project working with street children in 15 countries.  He also established the Centre for Creative Development in Cambodia 
using creative practice to help development workers engage creatively with one another.
Since 2007 David has been teaching and facilitating in drama schools, universities and arts centres. 
Recent projects include THE 33, a devised piece of Brechtian theatre, working with LAMDA students based on the buried miners of Chile, and the HOARDER, based on a Channel Four documentary.
David founded the Centre for Creative Practice with family therapist and social work professor Lynn McDonald, and Associate Director Melissa Eveleigh as an independent organisation committed to Creativity and Social Development. The directors of the centre see creativity as a tool for personal reflection, engagement and social transformation.
Physical Theatre, Creative Practice, Teaching
Over 30 countries. UK based