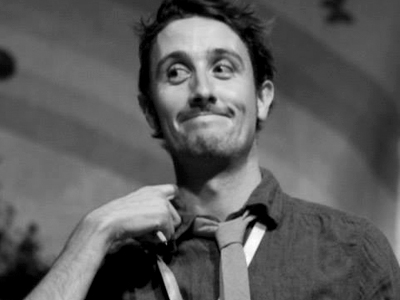 Adam McGuigan
Associate Director / Co-founder of Barefeet Theatre (Zambia)
Adam studied theatre and drama at Liverpool John Moore's University (BA Hons), later pursuing a postgraduate Diploma in directing; Physical Theatre (Mask, ensemble, acrobatics, voice) at Hope Street Limited. Winner of the Ray Sutton Award for excellence Adam was invited to lecture in theatre and performance at John Moore's University in Liverpool (UK) 2004-2005.
Adam worked at Hope Street Limited Liverpool as Creative Producer for two years, where he ran an emerging artist programme for 25 multi-disciplined artists, directing or producing 12 large scale cross art form site specific projects in locations across Merseyside.
In 2006 Adam toured a one-man street theatre show which he intended to perform in orphanages around the world. Whilst in Zambia Adam met a group of young artists who had lived on the streets and together they founded Barefeet Theatre where he was the Artistic Director for 10 years. For the 10 years Adam led the organisation from a start up into a thriving arts institution in South Saharan Africa which now partners with UNICEF, EU, Irish Aid and many other international institutions.
Barefeet Theatre is a non-governmental arts organization (NGO) that uses art, play and creativity to give young people a platform to express themselves . Through the power of performance, educational workshops, and immersive art experiences, Barefeet helps inspire vulnerable youth to make positive life choices that promote their holistic development.
In the 10 years since Barefeet was born Adam has directed over 10 site specific performances with children living on the streets, children living in refugee camps and children living with disability. Adam co- created a thriving professional performance company with whom he has directed over 20 shows touring Festivals across the UK, Ireland, South Africa, Zimbabwe, Poland, the US and within Zambia.
Barefeet has impacted the lives of over 10,000 young people and continues to inspire and help build lives for vulnerable youth across the country.
As well as working for Barefeet, Adam is a consultant for an international theatre festival 'Contacting The World', based at Contact Theatre Manchester (UK). This bi-annual festival nurtures collaboration through a 'twinning' process between 12 companies across the world to be premiered every two years in the U.K. In 2010 Adam was one of two 'Artist Facilitators' who led the creative curation of the festival travelling to work with emerging theatre companies in Iran, Jamaica, USA, Denmark, Switzerland and the UK.
Most recently Adam has revisited his one man interactive 'Global laughter Emergency Expedition' Dr Glee and the Laughing Warriors which has so far toured orphanages, refugee camps and schools in South Africa, Zimbabwe, Zambia, Congo, Nigeria, Rwanda, Uganda and Ethiopia.
Writer, Performer and Creative facilitator