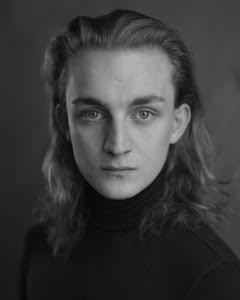 Luke Vincent
Ensemble Member
Luke began his training at the Centre for Advanced Training for Contemporary Dance, Bilborough College and The National Youth Theatre, which lead him to study at Rose Bruford School of Theatre and Performance, London, on the BA (hons) European Theatre Arts programme:  An intensive vocational training programme that blends physical performer training with contemporary approaches to performance from a European perspective, encompassing a range of movement and performance disciplines. The course allowed Luke the opportunity to study abroad, so in early 2017 Luke attended the Czech Schools HAMU and DAMU in Prague, training further in movement, Dance and Acting for 6 months.
 During Luke's professional training at Rose Bruford, Luke managed to sustain a personalised dance practice and utilised the course at Rose Bruford to extend and approach movement/dance from a new perspective. Luke's further training consists of working with nationally &  internationally recognised based artists and companies such as Roser López-Espinosa (Physical Dance); Noa Paran & Natalia Iwaniec (GAGA/Improvisation); Nuria Legarda (Butoh); Lost Dog Dance(Dance Theatre); Temper Theatre (Physical/dance Theatre).
Luke utilised his training at Rose Bruford and went on to choreograph the  production of 'Who Deserves Greatness' a devised Final year show Directed by Nuria Legarda, December 2017. This was followed by Movement Directing a cast of 38 in 'Come To Daddy' directed by Sammy Metcalfe (Sleepwalk Collective) February 2018. During Luke's final year of Rose Bruford he founded/lead/facilitated the Contact Improvisation Society.
Since graduating from Rose Bruford in May Luke has undergone various projects. Beginning with movement direction and teaching for a project for the MA Performance Making Course with Nuria Legarda at Goldsmiths University.
Luke was also cast in  'Sounds and Sorcery: Fantasia' at The Vaults Theatre, Waterloo. Running from 3rd of July through to 30th September working with award winning Director Daisy Evans and west-end Choreographer Carrie Anne Ingrouille.
Luke has further performed across venues in London with State Of Flux Theatre in their show '(Dont) Touch Me' at the Silver Building as well as performing his own work alongside Poet and sound artist Manor The Late Kid with 'Movement + Sound Experiment' at the Tate Britain.
Luke has recently been awarded the Dance Artist bursary at Dance 4  to further develop  his own work in collaboration with Paige-Marie Baker-Carroll on their show: 'NAKED' .
Dance, Choreography, Performance